Browse Archive Collections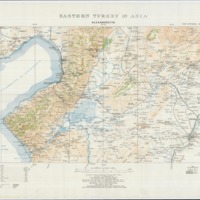 The W. F. Albright Institute of Archaeological Research (AIAR) in Jerusalem in cooperation with the Center for Ancient Middle Eastern Landscapes (CAMEL) at the University of Chicago scanned and geo-referenced a series of topographical maps of Eastern Turkey and the lands of the broader Ottoman Empire with a grant from the US Department of Education TICFIA program. The bulk of the collection contains topographical maps compiled at the British Intelligence Division War Office in 1915 derived from map and survey data collected during multiple expeditions 1839-1906. The collection contains high resolution copies of the original maps held by AIAR, and geo-referenced versions can be requested by contacting dlir@caorc.org.
View the items in Maps of the Ottoman Empire »
In 1935, the Near East Mission of the American Board of Commissioners for Foreign Missions (ABCFM) undertook preparation of a memorial book to commemorate and honor those who had served the Board in Turkey, the Middle East, and the Balkans from the early 1800s through the early twentieth century. The initial three-volume work was compiled and edited by Charles Trowbridge Riggs, Near East Mission Secretary from 1910 to 1938, and contained biographical sketches of more than six hundred missionaries. Subsequent to Mr. Riggs' death in 1953, a fourth volume was prepared to include those members of the Mission who died prior to 1970 but were not included in the earlier volumes. Volume five, the final in the series, contains the biographies of missionaries who have passed away since 1970.
View the items in American Board Memorial Book »